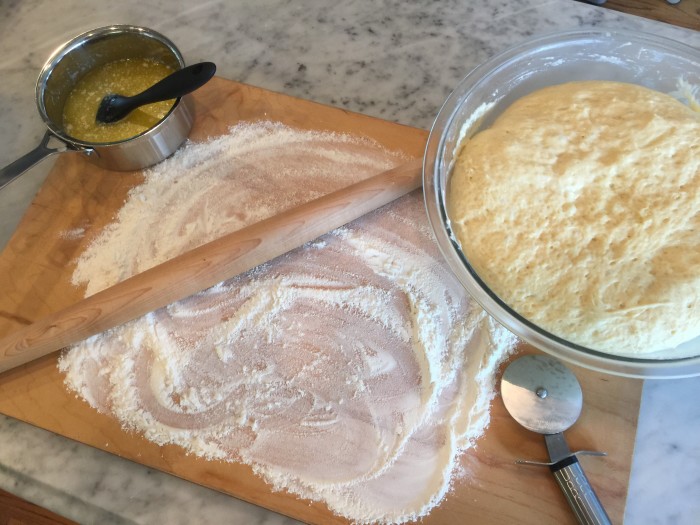 Instructions
Created on November 12th, 2002
Rinse medium sauce pan with water. On medium heat, cook 1 cup of milk till a skim forms on top. This is called scalding. DO NOT bring milk to a boil. Remove from heat once skin is formed. Add 1 ½ tsp salt, 1/2 cup sugar and 3/4 cup butter. Stir well. Set aside.
Mix with a fork 1/4 cup HOT tap water, 1 tsp sugar and 1 pkg of yeast in medium size glass. Set aside until yeast bubbles up.
Beat 3 eggs in small bowl.
Once milk mixture has cooled and butter is completely
melted in a large mixing bowl, add risen yeast. Mix well. Add beaten eggs. Mix well. Add 2 cups flour, mixing well. Add 1 more cup of flour. Mix well. Add final cup of flour. Mix well. Cover bowl with saran wrap and let rise. Dough will double in size. This takes from 4 to 6 hours.
Once dough has risen, remove saran wrap and stir dough about 3 times. Replace saran wrap and refrigerate overnight (at least 6 hours).
Remove dough from refrigerator. Melt 1 stick of butter in microwave. Divide dough into 3 parts. On a floured surface, roll out dough like a pie. With pastry brush, spread melted butter over dough. Cut into 8 pieces with a pizza cutter.
Roll dough into crescent shape and place on greased cookie sheet. Cover with tea towel and let rise till doubled in size (about 2-3 hours).
Bake at 350 degrees for 12-15 minutes. Remove from oven when golden brown. Brush with melted butter. Serve immediately or let cool and place in ziplock freezer bag. Rolls can be frozen for up to 1 month. To use after freezing – let rolls thaw at room temperature in bag. Heat on cookie sheet at 300 degrees for 4-8 minutes.
This is usually a 2-day process. You can make the bread in the night before the day you want it. Let it rise that
evening and refrigerate it overnight. It can stay in the refrigerator for up to 18 hours. You can make it that next morning or wait until about 3 hours before dinner.
Tips...
This bread freezes great. When finished baking, let cool
completely and place in ziplock freezer bags. Freeze for up
to 1 month. To reheat, remove from freezer and let thaw at
room temperature. Place thawed rolls on cookie sheet and reheat at 300 degrees for 5-10 minutes.